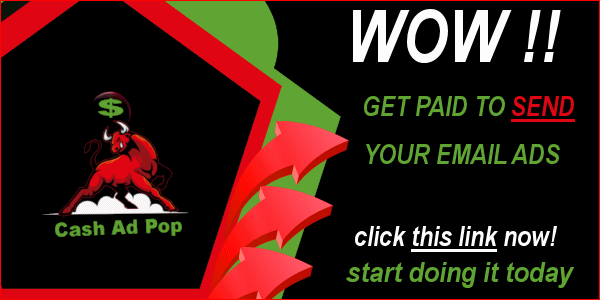 CASHADPOP.COM is an Email traffic that gives you free email credits that you can send to other members and you and them will earn credits by reading each other emails.
CASHADPOP.COM gives you between 20 - 30 credits for each email you read and 200 creduts for each video ad you watch for 2 minutes.
You can get credits from the website by clicking EARN AD CREDITS in the left side of the website.
You can create ad from EDIT ADS / CLICK STATS in the left side of the website.
You can send ads from SEND EMAIL ADS in the left side of the website. The minimum amount of credits you have to use every time is 1500 credits and they claim that they give you 0.05$ for every time you send email but I think that we mustn't wait for payments because there is no minimum cashout limit and the email they added is fake.
I use those measure before giving rating to any site please read this post
HERE
Pros
Easy to use.

you can easily get credits.

Active members.
Cons
Do not expect to get paid.





CASHADPOP.COM

rating:
I give it 60% trust score because members are active and they read my emails, Maybe waiting to get paid.
You can register from