Serfclick.net is a Russian PTC site launched at the 15th of February 2023. This review is about Serfclick and its cashout limits and payment methods, and whether Serfclick.net is a scam or a paying paid-to-click website.
What is Serfclick.net?
Serfclick is a paid-to-click website with no investment, not like other Russian ptc websites. It pays members to watch ads, YouTube videos, shortlinks, and other simple tasks.
How to make money with Serfclick?
In Serfclick.net, you can amke money with many ways, and here they are:
Watch paid to click ads
Watch Youtube videos
Paid to sign up
Quests
Shortlinks
Contests
Daily bonus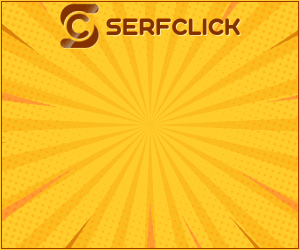 What are payment methods and limits on Serfclick.net?
There are many payment methods on Serfclick.ne, most of them are Russian e-wallets and they are all like the following:
Payeer, Perfectmoney, QIWI, YuMoney, FKwallet, Advcash, MIR, Visa, Master Card.
There is a 6% fee on all withdrawals for all payment methods.
The minimum cashout limit is 1.1 Russian ruble.
Advertising on Serfclick.net:
From the surf section you can add links and a brieifng about the ad, the prices start from 0.07 ruble for five seconds duration advertisement to 0.24 ruble for 90 seconds advertisement.
And you can control the appearance of your link for other members: once each 12 hours, once each 24 hours and once each 48 hours.
Also, you can advertise on the side bar (Advertising is displayed in the left menu of the site), Price per 1 unique click is 1 ruble.
Adding funds to Serfclick.net:
Adding funds to Serfclick.ne starts from 1 ruble.
Serfclick.net Video Review:
Please read this post HERE
Pros
Payeer, Perfectmoney payments.

No investments.

Youtube ads.

Low cashout.

Many payment methods.

Cheap advetising prices
Cons
Yuo have to use translate option in Google chrome to use it.


Serfclick.net

rating:

I gave Serfclick.net a score of 90%, because Serfclick.net looks like a great opportunity for its members to grab some rubles daily and for free, the best thing about Serfclick.net is that it doesn't require any deposit to make money and that it doesn't have any investment. ponzi plans.
I think Serfclick.net is going to be a long time website, and all users who like to earn extra funds online or advertise for new users should try it.